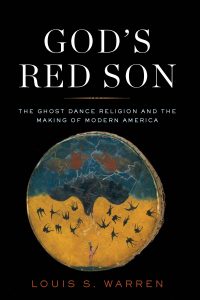 God's Red Son is the latest book by Louis S. Warren, W. Turrentine Jackson Professor of Western U.S. History at the University of California, Davis. It will be released in April 2017.
Amazon | Barnes and Noble | IndieBound
Advance Praise for God's Red Son
"Forget what you thought you knew about the Ghost Dance. In God's Red Son, Louis Warren delivers an entirely new and convincing interpretation of one of the most significant episodes in the colonization of the American West. A masterwork of investigative history."
—John Mack Faragher, Yale University
"Louis Warren's Buffalo Bill's America leapt past decades of writing to become the definitive treatment of the Wild West show. With God's Red Son, he has done it again, combining scholarly depth and literary brilliance in a magisterial reinterpretation of the Ghost Dance. But more than that, God's Red Son is one of the most powerful accounts of Native American modernity you'll ever read, critical to an understanding of Indian Country today."—Philip J. Deloria, Carroll Smith-Rosenberg Collegiate Professor, University of Michigan
"Louis Warren is one of the most original historians writing today. He has an uncanny ability to see what others have missed and to convey it in a clear compelling narrative."
—Richard White, Margaret Byrne Professor of American History, Stanford University
"I can't remember the last book I read that so persuasively rewrites what I thought I knew about a much studied topic. Louis Warren's book does that for the Ghost Dance, and, more than that, it allows readers to see anew the history of the era and of all American religions. God's Red Son is truly a revelation."
—Stephen Aron, Professor of History, UCLA
"With God's Red Son, Louis Warren has written yet another book that is going to re-arrange the mental furniture in our heads. His wonderfully-clear prose pulls us effortlessly through a story that has western Indians emerge as entirely modern, and their 19th century Ghost Dance religion as an endeavor many readers will find not just freshly understandable, but spiritually familiar. As was the case with his biography of Buffalo Bill, this book is Warren at the absolute top of his game."
—Dan Flores, author of Coyote America: A Natural and Supernatural History
"In God's Red Son, Louis Warren tells a wonderfully compelling and justly insightful story about the Ghost Dance religion, a tradition that is close to the hearts of so many Native peoples. Staying true to the moving "perspective[s] of the faithful," he weaves a tapestry of multi-situational complexity that sharpens our understandings of how this important indigenous religion contributes to the making of modern America, as well as demonstrating his vision of the possibility of a pluralistic society that values and affirms Indian autonomy."
—Ines Hernandez-Avila, Professor of Native American Studies, University of California, Davis
"God's Red Son is riveting and transcendent—a magnificent new interpretation that reveals the Ghost Dance as a beacon to modernity, lighting the way to the future. Like Wovoka himself, Louis Warren speaks to all of us navigating the difficult terrain between past realities and present prospects."
—Elizabeth Fenn, winner of the Pulitzer Prize for History, University of Colorado Boulder
"This eye-opening book is rich with empathy-stirring insights into the Indian Ghost Dancers? dilemmas, hopes, ecstatic experiences, and practical precepts for survival in the modern United States. Importantly, it shows us Indians who reacted to the jarring consequences of US expansion and industrialization much as many other Americans did—with a mix of hope-inspiring religious fervor and pragmatic economic adjustments. This is American Indian history at its very best, vividly illuminating not only its distinctiveness and captivating complexity but also its inseparability from the larger story of Americans at a time of rapid, wrenching changes. With an abundance of compelling evidence woven into an accessible, absorbing narrative, Warren convincingly refutes the all-too-common assumption that the Ghost Dancers, and most American Indians in the 1880s, were irrational dreamers, futilely resisting their culture?s inevitable demise."
—Alexandra Harmon, author of Indians in the Making and Rich Indians
Louis Warren's God's Red Son is a truly powerful re-envisioned (not revisionistic!) trenchant analysis of the Northern Paiute's revitalization movement by a leading American historian, whose keen understanding of those pulverizing industrializing engines of the late 19th Century American West, compellingly forces our shift from romantic notions about the "dying Indian race" resulting from the Wounded Knee massacre that followed Wovoka's teaching into this undying religion's 20th and 21st Century legacy: its spiritual and political semiotics in the Great Basin, as well as where it formerly spread. From Nevada to the northern and southern Plains, its descendants today face late-Capitalistic environmental crises staining our late nights—the Dakota Access Pipeline the most recent of these, and unhappily surely not the last."
—Michael Hittman, author of Wovoka & The Ghost Dance
"Many people consider the Ghost Dance and the Wounded Knee Massacre as an end of American Indian history. In God's Red Son, an engagingly written and meticulously researched book, Louis Warren tells of a Ghost Dance that endured Wounded Knee. Warren makes readers understand the origins of the Ghost Dance in Gilded Age Nevada, its attraction among Plains Indians, and its influence on the development of the social sciences. After consulting this book, readers will no longer consider the Ghost Dance a backward-looking effort to regain a primitive past, but a forward-looking religious movement that engaged with the modern United States."
—William Bauer, Wailacki and Concow of the Round Valley Indian Tribes, Associate Professor, University of Nevada
Reviews
"In "God's Red Son," Louis Warren, a professor of history at the University of California, offers an original, compellingly written and clear-eyed chronicle of native cultural transformation and ordeal." — Fergus M. Bordewich, The Wall Street Journal
"[A]n engrossing, readable, and carefully researched history….The work will delight fans of well-written history and appeal to historians of the West, Native Americans, and religion. — Publisher's Weekly (starred review).